As we conclude a remarkable flespi conf 2023, we extend our heartfelt thanks to flespi for hosting this enlightening event. It was a gathering of industry experts, visionaries, and innovators, propelling the telematics and IoT sectors to new heights.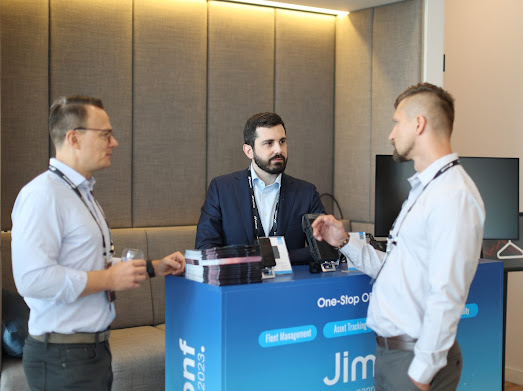 At the heart of our participation were three game-changers:
1️⃣ The JM-LL01, a Cat M1/NB-IoT asset tracker with a stellar standby time of up to 3 years on a single charge. Its robust magnetic mount ensures easy installation on any metal surface. Plus, its smart light sensor triggers an alert if detachment is detected, providing peace of mind for asset security.
2️⃣ The LL303, a 4G solar-powered GPS tracker designed for construction vehicles and vessels. With its solar panel, magnetic charger, and IP67 waterproof rating, it's a perfect fit for deployments demanding long standby times and peak performance. Versatile working modes, peripheral accessories, and event-triggered alerts make the LL303 an asset in fleet management.
3️⃣ The JC450 Series, an LTE dashcam system tailored for commercial vehicles. It records up to 4/5 channels simultaneously and boasts advanced ADAS and DMS algorithms for real-time driver assistance and safety. Key event-triggered video clips are securely stored in the cloud for later review. With features like support for peripheral sensors, WiFi connectivity, and ample on-device storage, the JC450 Series is ideal for various applications.
These innovative products showcased at flespi conf 2023 exemplify our commitment to pioneering telematics and sustainable energy solutions. The future is bright, and we're dedicated to driving innovation in these dynamic fields.
As we bid adieu to this event, we eagerly anticipate the exciting possibilities that lie ahead. Stay tuned for more updates and innovations!
WHY JIMIIOT
JimiIoT is a global leader in innovative IoT solutions. We provide cutting-edge hardware and software tailored to enhance efficiency and connectivity. Our range of products includes advanced GPS tracking devices, asset management solutions, smart vehicle dashcams, and telematics platforms. With a focus on technological excellence and customer satisfaction, we empower businesses to optimize operations and gain valuable insights from data-driven analytics. Trust JimiIoT to drive positive change and unlock growth opportunities in the digital age.
If you would like more details, please visit Facebook, LinkedIn, INS, and Twitter pages to learn more.