Jimi IoT is excited to announce our participation in May 23-25, 2023 Critical Communications World 2023 in Helsinki, Finland. We are inviting our esteemed customers and company representatives to visit us at Booth [M10] to experience our latest industry-critical solutions.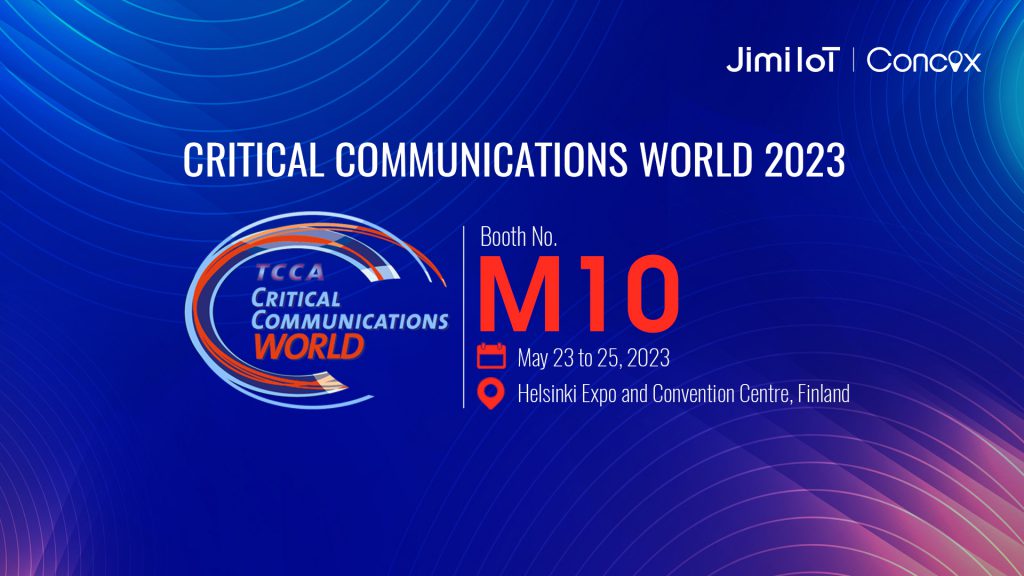 At the event, we will be showcasing our advanced Video Telematics Solution, which includes GPS- and cellular-enabled dashboard cameras. These cameras provide fleet managers with full visibility of their fleet vehicles, loads, and drivers on the road or in the yard. They help reduce false claims, correct driver behavior, and ensure personal safety.
Our Fleet Management Solution is another offering that we are excited to showcase. With our wide range of hardwired and wireless trackers, we can collect all types of data, including CAN data, from trucks, e-scooters, buses, and motorcycles. This data can be used to provide comprehensive reports that help companies improve efficiency, optimize routes, and reduce carbon footprint.
We will also be showcasing our Asset Management Solution, which provides attach-and-go asset trackers that can be easily deployed on trucks, vans, equipment, containers, and more. These trackers help companies keep tabs on the cargo, equipment, and mobile workforce at the lowest possible cost. Most of these trackers also support peripherals such as fuel sensors and temperature sensors to extend their functionalities.
In addition to these offerings, we will also have many more proven telematics devices on display. Our team of experts will be available to answer all your questions and provide you with detailed information about our products and services.
We look forward to seeing you at the event and networking with you. Please visit us at Booth [M10], May 23-25, 2023 Helsinki Expo and Convention Centre, Finland, to learn more about our innovative solutions that can help improve your business operations.
About Jimi IoT
JimiIoT is a leading IoT solutions provider, offering a range of products and services to help businesses and individuals improve efficiency, productivity, and safety. Their product range includes GPS, asset, and vehicle trackers, supported by cloud-based platforms, mobile apps, and customized solutions. With a focus on innovation and customer satisfaction, JimiIoT has become a trusted partner for businesses and individuals worldwide, providing the products, services, and expertise needed to succeed in today's fast-paced business environment.