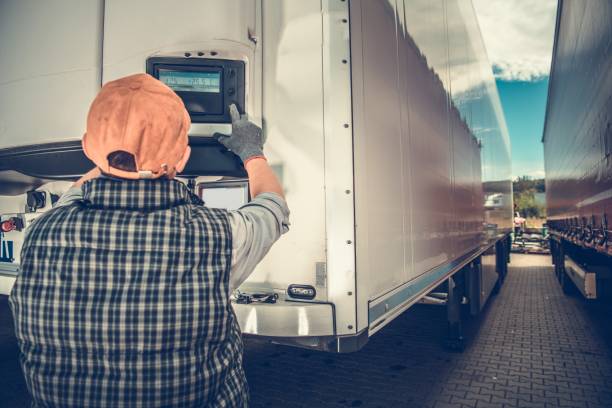 In a cold chain logistics application scenario, pre-consumer food is usually produced, stored, transported, sold, and handled in a low-temperature environment, so that food is always kept fresh. The requirements of cold chain logistics are relatively high, and the corresponding investment in management and capital is also greater than that of ordinary room temperature logistics.
With the gradual development of fresh food logistics, cold chain transportation has become an important guarantee for food preservation, and the monitoring of temperature and humidity is one of the most important aspects of the cold chain transportation process. Most of the food products have different temperature and humidity adaptability, and only by keeping the temperature and humidity within a reasonable range can the freshness be maintained to the greatest extent. However, in the actual transportation process, there are often various reasons for unexpected changes in the temperature and humidity of transportation. If the temperature and humidity changes are not obtained in time, it is likely that the company will suffer damage to the goods and cause large losses.
The application of temperature and humidity sensors can supervise the process specification of the transporting enterorises to make sure that the goods in transit are always in the right temperature and humidity environment, to avoid damage to the goods due to temperature and humidity changes, ensuringthe safety of the goods. Cargo owners, fleetmanagers and cold chain logistics enterprises leaders can log on to the monitoring cloud platform anytime and anywhere to achieve full temperature monitoring of the entire cold chain transport chain, to ensure that the temperature of the refrigerated transport process is under control, thereby improving the temperature control capability and credibility of enterprises.
About Us
JimiloT aims to provide customers with innovative, mutually beneficial, safe and efficient international intelligent hardware and IoT solutions. At present, our products have been sold to more than 130 countries, with an annual shipment of 6 million units. The volume reaches 10 million units, and we have set up service centers and marketing centers in many countries to provide customized services for the local market and build an international marketing and service network covering the world. JimiloT shoulders the mission of "making connections easier", and is constantly striving to realize the vision of becoming a continuous leader in IoT enterprises.
If you want to know more information about JimiIoT, Please click here for more information, or join our Facebook, LinkedIn, INS, and Twitter pages to learn more.